BANDITS DISTILLERY DRINK RECIPES
HOW DO YOU MIX YOUR BANDITS?
There's a drink for every mood or occasion
Find your favourite Bandits Distillery cocktail recipes below.
HOW DO YOU MIX YOUR BANDITS?
Most anyone can open a bottle of wine or a can of beer. Those who drink spirits like Bandits Moonshine or Bandits Red Coat Gin or Bandits Northern Lights Vodka, it can be easy to get stuck in a rut of mixing Bandits with Coke or Sprite.
Below is our growing collection of drink recipes to broaden your horizons. Drink recipes for punch drinks for your next gathering and recipes for drinks that fit your mood and celebration.
Check back often for new recipes.
Do you have your own concoction to share? We would love to share it.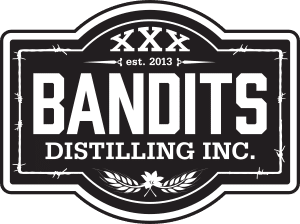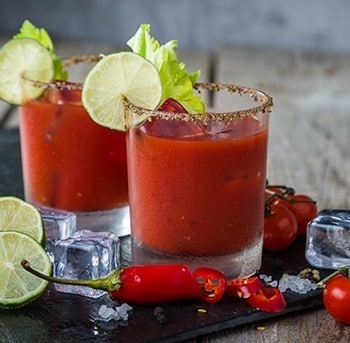 DID YOU KNOW?
The Thursday before the May long weekend,
Canadians from coast to coast come together to celebrate Canada's Cocktail – the Caesar!
It's the official kick-off to summer.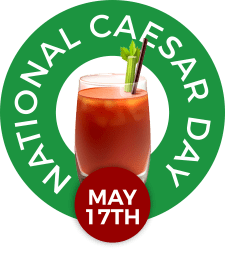 The Ceasar
The Ceasar Cocktail is primarily a Canadian drink
According to Wikipedia, the Caesar cocktail, invented in 1969. By restaurant manager of the Calgary Inn (today the Westin Hotel) in Calgary, Alberta.
Inspired by his favourite Italian dish, spaghetti vongole. He set out to create a cocktail that would capture the pasta's hearty clam and tomato flavours. Mixing vodka with clam and tomato juice, Worcestershire sauce, and other spices. Creating a similar drink to the Bloody Mary. But with a spicy flavour.
How to make a Ceasar?
Ingredients
1.5 oz of Northern Lights Vodka
.75 oz of Lemon Juice
2 to 3 dashes of Worcestershire Sauce
2 to 3 dashes of hot sauce, typically tabasco sauce (optional)
Celery salt for the glass rim
Celery Stalk for garnish (see the alternatives above)
Lemon or Lime wedge
Ice
How to Make
Rub the rim of your glass with the lemon or lime wedge
Add a small amount of celery salt onto a plate and roll the wet rim into the salt
Add the Northern Lights Vodka, lemon juice, Worcestershire and hot sauce into the glass
Fill the glass with ice
Fill the remaining glass with Clamato Juice
Stir well and garnish with a garnish (celery or other garnish(
CAESAR FUN FACTS
In 2009, the Caesar was officially declared "Canada's Official Cocktail" by parliament.
Over 407 million Caesars are consumed by Canadians
The main difference between a Caesar and a Bloody Mary is Motts Clamato Cocktail. The Bloody Mary uses tomato juice.
Top 10 Garnish Ideas
Celery
Olives
Green Bean
Dill Pickle
Pickled Peppers
Pepperoni Stick
Bacon
Asparagus
Cocktail Onions
Mini Corn-on-the-Cob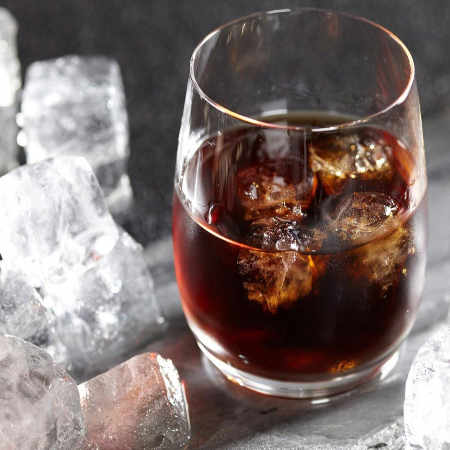 The Black Russian
A cocktail made up of vodka and coffee liqueur
The Black Russian supposedly first appeared in Brussels in 1949. It's a wonderfully simple cocktail – just vodka and coffee liqueur (Kahlua for example) over ice.
This drink tastes enough like sweetened coffee that you can just assume any food that goes well with sweetened coffee will go well with a Black Russian.
How to make a Black Russian
Ingredients
1.5 ounces of Bandits Northern Lights Vodka
3/4 ounces of coffee flavoured liqueur
Instructions
Using a highball glass full of ice cubes
Pour the Northern Lights Vodka and coffee liqueur over the ice

bartenders prefer to pour the vodka, then the coffee liqueur, and let it settle without stirring

Stir & Serve
Sparkling Cranberry Vodka Punch
Great Drink for a party or supper event
It's light and refreshing. Served with lots of ice, this thirst-quenching sipper is light enough to enjoy during the day or serve with your meal. This punch is perfect for holiday gatherings. Even to keep in the fridge in case someone pops over. Wait to add the ginger ale when serving from the fridge.
Sparkling Cranberry Vodka Punch could not be easier to make or more refreshing to drink! Perfect for holidays and parties. Using seasonal flavors of cranberry and ginger in a fizzy punch.
How to make Sparkling Cranberry Vodka Punch
The recipe produces about 10, 1 cup drinks. If you are making it as a punch, add the ginger ale for ginger flavor. If you are making it to store in the fridge, add the ginger ale as you serve it.
Ingredients
2 cups Bandits Northern Lights Vodka
4 cups Sweetened Cranberry Juice
2 cups prepared Lemonade
2 cups Ginger Ale
Instructions
Chilling the cranberry juice, lemonade, ginger ale and vodka for a helps to blend the flavors. It also allows it to stay cooler longer.
Use a punch bowl, glass dispenser with spigot or a pitcher.
Combine the cranberry juice, vodka, and lemonade in a large jar or glass dispenser
Chill in the refrigerator for 2-3 hours (or chill ingredients prior to making)
Just before serving, add the ginger ale and several cups of ice (if using a punch bowl an ice ring may be used).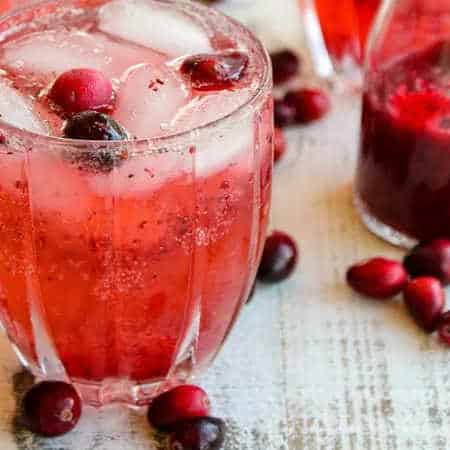 Sown, Grown, and Bottled in Saskatchewan.
A distillery built on a foundation rooted in over 100 years of farming life in Saskatchewan. Our research into the world of moonshine, vodka, gin and whiskey products spans from the Deep South to Russia, with a quest to find top-methods of distilling from the legends. We are home and sharing our unique spirits with unforgettable flavours that are comparable to the best in the world.
Our distillery is infused with country values and a strong work ethic to make a living. Bandits Distilling uses it's very own highest quality homegrown grains along with those of local suppliers.
Bandits Distilling … Sown, Grown, and Bottled in Saskatchewan.
Contact Information
306 559 4753
Mailing Address
Bandits Distilling Inc.
#3 22nd Avenue SE
Box 1348
Weyburn SK
S4H 3J9