Bandits Distillery
Moonshine, Vodka & Gin.
Whiskey is currently being Aged in barrels!
Saskatchewan Made Moonshine
TRADITIONAL | PEACH | CHOCOLATE | COFFEE | GREEN APPLE | SASKATOON | MAPLE
Saskatchewan Made Spirits
Moonshine, Vodka & Gin. Whiskey Coming Soon.
Saskatchewan Made Spirits
Moonshine, Vodka & Gin
Whiskey is currently being aged
Saskatchewan Made Spirits by Bandits Distillery. Our distillery is located in Weyburn, SK and was established in 2013.
A distillery built on foundation rooted with over 100 years of farming life in Saskatchewan. Our research into the world of moonshine, vodka, gin and whiskey products spans from the Deep South to Russia. 
Read more About Bandits Distillery.
If you are looking to try some amazing Saskatchewan Made Moonshine, Vodka or Gin we have retailers throughout Saskatchewan. We are also always on the lookout for other retail locations.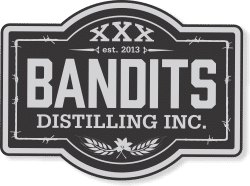 Saskatchewan Made Spirits
Moonshine, Gin, Vodka & Whiskey
Weyburn, Regina, Emerald Park, Mortlach, Assiniboia, Mossbank, Pilot Butte, Sinaluta, Montmarte, Grenfell, Broadview
SASKATCHEWAN MADE SPIRITS
~ MOONSHINE ~
Traditional
Moonshine

Peach Flavoured
Moonshine
Coffee Flavoured
Moonshine

Green Apple Flavoured
Moonshine
Chocolate Flavoured
Moonshine
Maple Flavoured
Moonshine
Saskatoon Berry Flavoured
Moonshine SASKATCHEWAN MADE SPIRITS
~ VODKA ~
Bandits Distillery Northern Lights Vodka
Fermented from the highest quality prairie grains, distilled in our 100% all copper pot still and is left unfiltered for natural purity.
Our cutting-edge premium vodka is smooth, crisp and refined. Your drink of choice at its finest on the rocks, neat or in your favourite cocktail. SASKATCHEWAN MADE SPIRITS
~ GIN ~
Bandits Distillery Red Coat Gin.
Handcrafted in small batches, this New Western Style Gin contains exotic botanicals enhanced with lilac and birch bud that are unique to our prairie soil.
This great depth of flavours will inspire many cocktail creations. SASKATCHEWAN MADE SPIRITS
~ WHISKEY ~
Bandits Distillery Whiskey.
Our Saskatchewan made whiskey is currently aging in the finest handcrafted barrels.
Stay tuned for our Whiskey release. MOONSHINE FLAVOURS
TRADITIONAL
PEACH
COFFEE
CHOCOLATE
GREEN APPLE
MAPLE
SASKATOON BERRY
Our Whiskey will be ready to enjoy in the spring of 2019.
Follow us on Twitter to be notified once it is ready!
Quick History Of Distilling
Since early recorded history, there has been evidence of distilling alcoholic beverages.
The Chinese were distilling a beverage from rice beer by the year 800. Arrack, distilled in the East Indies from sugarcane and rice. The Arabs developed a distillation method to produce a distilled beverage from wine. Greek philosophers reported a crude distillation method.
There are reports of distilled spirits have in Britain before the Roman conquest. Spain, France, and the rest of western Europe produced distilled spirits as well. But production was limited until the 8th century, after contact with the Arabs.
The first distilled spirits, made from sugar-based materials. Material such as grapes and honey to make grape brandy and distilled mead. The earliest use of starchy grains to produce distilled spirits is not known. But their use dates from the Middle Ages. Some government control dates from the 17th century. As production methods improved. Volume increased. The distilled spirits industry became an important source of revenue. Rigid controls were often imposed on both production and sale of the liquor.
The earliest stills had a heated closed container. As well as a condenser and a receptacle to receive the condensate. These evolved into the pot still. The pot still is still in use, particularly for making malt whiskeys and some gins. The next refinement was heating the alcohol-containing liquid. In a series of vaporization chambers. By the early 19th century, large-scale continuous stills were operating.
Since distillation requires that the liquid part of a fermentation mixture be vaporized. Considerable heat is used in the process. The fuel used in distilling spirits has always been that which has been most available. Peat, coal, and wood were the fuels used, while the fuels of choice today are coal, natural gas, and oil.
The high steam need for continuous-still operation inhibited the development of rectifying columns. This was later fixed after the Industrial Revolution.