BANDITS DISTILLERY DRINK RECIPES
HOW DO YOU MIX YOUR BANDITS?
There's a drink for every mood or occasion
Find your favourite Bandits Distillery cocktail recipes below.
HOW DO YOU MIX YOUR BANDITS?
Most anyone can open a bottle of wine or a can of beer. Those who drink spirits like Bandits Moonshine or Bandits Red Coat Gin or Bandits Northern Lights Vodka, it can be easy to get stuck in a rut of mixing Bandits with Coke or Sprite.
Below is our growing collection of drink recipes to broaden your horizons. Drink recipes for punch drinks for your next gathering and recipes for drinks that fit your mood and celebration.
Check back often for new recipes.
Do you have your own concoction to share? We would love to share it.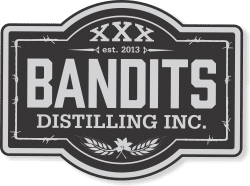 Double Double Coffee Cream Moonshine
Ingredients
1/2 oz BANDITS Coffee Moonshine
1/2 oz of your favourite Coffee Cream Liquor
Spash of 2% Canadian Milk
Directions
Fill a short cocktail glass with ice
Pour the 1/2 oz BANDITS Coffee Moonshine and 1/2 oz of your favourite Coffee Cream Liquor over the ice
Top with 2% Canadian Milk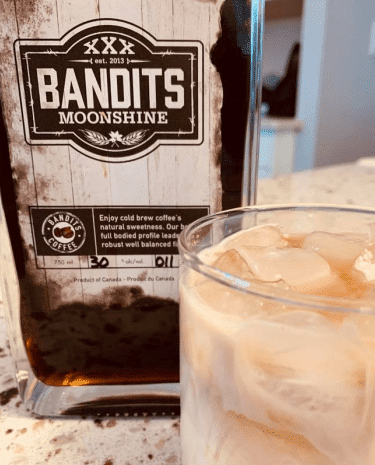 Moonshine Pecan Pie Bread Pudding
Pecan Pie Bread Pudding is one of the most popular recipes.
Ingredients
1 16 oz loaf of day old French bread
2 cup milk
1 cup half and half cream
1/3 cup BANDITS Moonshine Pecan Pie
4 eggs lightly beaten
1 cup granulated sugar
1 tbsp vanilla extract
1/8 tsp salt
1/2 cup butter; softened
1/2 cup packed brown sugar
1 cup pecan; chopped (optional)
Directions
Preheat oven to 350 degrees
Cube bread then place in a large bowl.
In another bowl, beat the first 6 ingredients. Pour over the bread and allow to sit for 5-10 minutes.
In another bowl, combine the butter, brown sugar and pecans together with a fork.
Pour half of the bread mixture into a greased 8×8 inch pan. Too with half the pecan mixture.
Spoon remaining bread mixture over and top with remaining pecan mixture. Press down into pan slightly.
Place pan on a cookie sheet for spills.
Bake at 350 45-55 min.
Allow to cook for 20-30 minutes before serving.
ENJOY!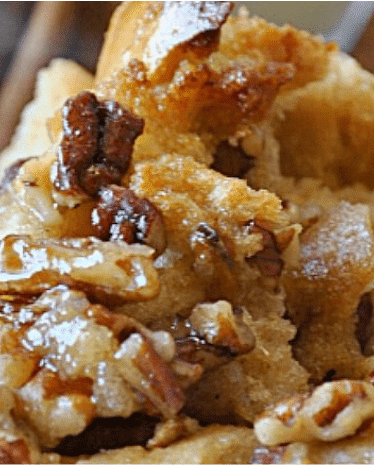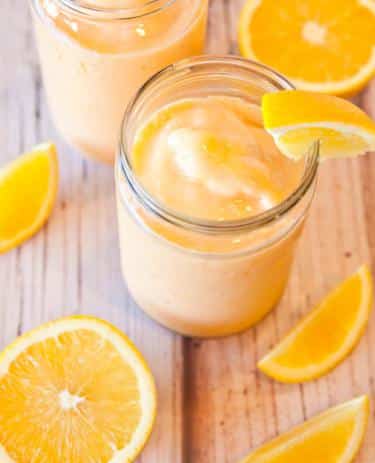 Dreamsicle Moonshine
INGREDIENTS
• 1 1/2 gallon orange juice
• 2 1/2 cups sugar
• 1 cup powdered French Vanilla coffee creamer (Powdered allows the flavor to penetrate without diluting the drink. It's worth it to splurge on the nice stuff)
• 1 tbs vanilla extract
• 1 cup vanilla vodka
• 4 cups Bandits Traditional Moonshine
INSTRUCTIONS
Bring orange juice and sugar to a boil. Stir in creamer until dissolved. Remove from heat and cool to room temperature.
Add vanilla extract, vodka, and moonshine. Stir, then jar and refrigerate. Let it sit for at least 2 weeks, shaking it every day or so. As with many things, the longer it sits, the better it gets.
NOTES
If you've got an extra vanilla bean laying around, add the seeds to the boiling orange juice for a deeper vanilla flavor.
Apple Pie Moonshine Spiced Cider
What's better than an Apple Pie Moonshine Spiced Cider after a romantic sleigh ride through the country … Who are we kidding?? Enjoy this drink after shoveling snow, helping your kids make snow angels, sledding down the hill or just taking out the recycling in your slippers.
Ingredients
1 oz. Bandits Green Apple Pie Moonshine
1 oz. Simple Syrup (see how to make)
3 oz. Spiced Cider (R.W. Knudsen Cider & Spice)
Salted Caramel (Smuckers is one option)
Coarse Sea Salt
Ice Cubes
Directions
Prep, Coat the rim of the glass with salted caramel sauce.
Dip the salted caramel sauce rim into coarse sea salt.
In a cocktail shaker add apple pie moonshine, simple syrup, spiced cider, and ice cubes.
Secure the lid on the cocktail shaker and shake 'till the cows come home or 30 seconds.
Strain into a serving glass filled with fresh ice.
Serve.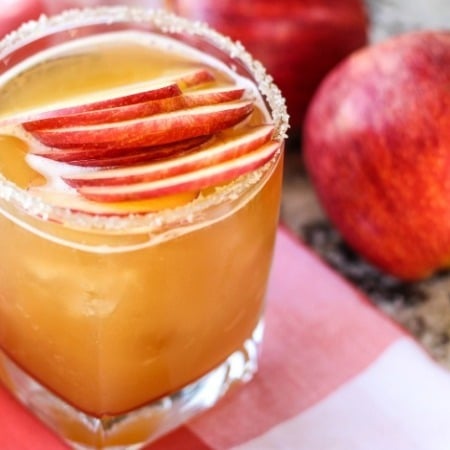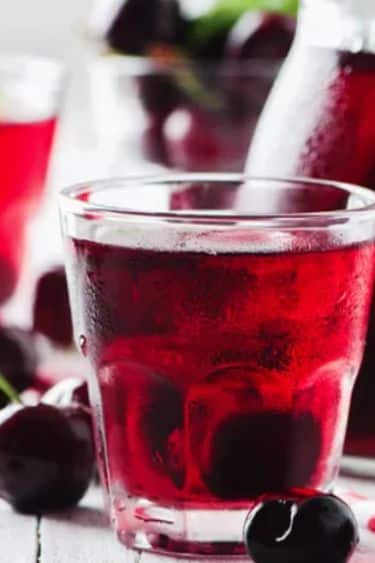 Crock Pot Cherry Pie Moonshine
If you love cherry pie, you're going to love the Bandits Crock Pot Cherry Pie flavor Traditional Moonshine recipe.
Easy to make and tastes amazing. Great as a holiday drink or to be poured over vanilla ice cream.
Ingredients
2 cans cherries, 15 oz each, ideally with heavy syrup
1/2 cup sugar
1 32 oz container of cherry juice
2 cups Bandits Traditional Moonshine (or substitute with Bandits Northern Lights Vodka)
Directions
Combine cherries, sugar and cherry juice in the crock pot, stir until combined
Cook on low for 1-2 hours until sugar dissolves
Allow to cool, once cool pour in Bandits Traditional Moonshine
Add a dash of vanilla extract (optional)
Ready to serve.
Serve in a glass with ice and the cherries. Can also be poured over vanilla ice cream. For gift ideas, pour into mason jars and add your own label and gift or store for later use.
Creamy Maple Buzz
Fill a tall glass with ice
Add 1 oz. of Bandits Maple Moonshine
Fill glass with half Cold Coffee
Fill remainder of glass with Cream
Traditional Moonshine can be consumed straight, but if you are looking for mix options, you can try these.
COLA
  Don't want to start a cola war here … Coke or Pepsi. But both are acceptable. Even the knock-off brands.
ICED TEA
Premade, bottled ice tea works best. Mixing it at a 3:1 ratio (3 parts ice tea to 1 part Traditional Moonshine) provides the perfect combination.
LEMONADE
Grab yourself a mason jar and fill it with ice. Moonshine and tart lemonade are what summers are meant for … and winter and spring and of course fall.
GINGER ALE
Looking to knock the edge of the Traditional Moonshine? Then Ginger Ale is your answer. The sweeter ginger ale helps the moonshine go down the smoothest.
GRAPEFRUIT JUICE
 Some may think that grapefruit juice on its own is hard enough to drink. Combine that with our Traditional Moonshine and you will be surprised with the bright, citrusy combination.
SWEET VERMOUTH
Turn Traditional Moonshine into a strong, stirred drink by adding sweet vermouth. Similar to a Manhattan (2;1 ratio), try a 50/50 mix of Traditional Moonshine & Sweet Vermouth (not dry vermouth) with plenty of ice to soften all the flavours.
HOW DO YOU MIX YOUR BANDITS?
Share your drink recipe with us to share with our fans.
Sown, Grown, and Bottled in Saskatchewan.
A distillery built on a foundation rooted in over 100 years of farming life in Saskatchewan. Our research into the world of moonshine, vodka, gin and whiskey products spans from the Deep South to Russia, with a quest to find top-methods of distilling from the legends. We are home and sharing our unique spirits with unforgettable flavours that are comparable to the best in the world.
Our distillery is infused with country values and a strong work ethic to make a living. Bandits Distilling uses it's very own highest quality homegrown grains along with those of local suppliers.
Bandits Distilling … Sown, Grown, and Bottled in Saskatchewan.
Contact Information
306 559 4753
Mailing Address
Bandits Distilling Inc.
#3 22nd Avenue SE
Box 1348
Weyburn SK
S4H 3J9